AY Clients - Al Safadi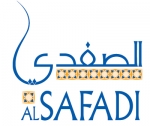 Al Safadi is dynamic website which effectively promotes Al Safadi Restaurant with their itinerary. The website is in Arabic and English with videos and photo gallery that showcase their authentic place and the foods. The website is fully dynamic with separate admin panel for the administrator.

Testimonials

AY Marketing is helping me a lot with my business, with your dedicated people and excellent working system; this is why you are different to the other website consultancy you are very professional and easy to approach. Keep up the good works and more power….

Hisham Hindi